Inpatients & Visitors
Admission Procedure
Admission Procedure
Step.1
Patients who make a prior appointment will be contacted by the department at a later time to be notified of the date of admission.
Step.2
Once contacted, please prepare the following:
Patient Registration Card (ID card with picture)
Admission application with guarantor
Health insurance card
Claimant certificate (Elderly healthcare and other public healthcare benefit)
Certificate for Ceiling-Amount Application
Self-declaration form for admission
Acknowledgment form for hospital gown*
Personal seal
Admission Guide for patients with an appointment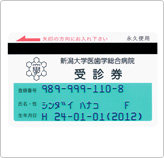 Patient Registration Card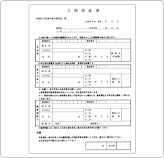 Admission application
with guarantor
*To prevent infection and for convenience during consultation, all patients admitted to the hospital are asked to wear a specified hospital gown (70 yen per day). If you wish to wear garments other than the specified hospital gown, please bring the garments with you. Hospital gowns are exchanged three times a week during summer and twice a week at other times.
Step.3
Admission can be completed at the Admission/Discharge Counter (located on the first floor near the admission/discharge entrance) on the day of your admission. Either the patient or a proxy should report to the counter with the necessary documents (documents 1 to 6 as listed in Step 2).
Step.4
Please report to the Nurse Station of the relevant department with document 7 of Step 2 by 10:00 a.m. Hospital staff will escort you to your room.
Step.5
If you wish to make an application or ask questions regarding public healthcare benefits (benefits for: minor with physical disability, social rehabilitation, premature birth, specified diseases, welfare benefit, etc.), please visit the Public Medical Expense Counter (Counter 6, ground floor of the Outpatient Wing).
Step.6
Please present your health insurance card and/or claimant certificate at the Admission/Discharge Counter once each month during you term of admission at the hospital. If the details of your health insurance card change after admission, please immediately notify staff at the Admission/Discharge Counter (located on the first floor near the admission/discharge entrance) and present your updated health insurance card.
Step.7
Patients who are admitted due to work related accidents or traffic accidents must notify hospital staff at the Admission/Discharge Counter.
What to Bring
1. Daily necessaries
Please bring the below items:
Toiletries (washbowl, toothbrush, cup, soap, comb, razor, shampoo, conditioner, etc.)
Slippers: Please ensure that the slippers are easy to walk in and comfortable.
Other daily necessities: the above items in addition to face washers, bath towels, underwear, tissues, and stationery can be purchased at a hospital kiosk.
Cutlery (chopsticks and tea cups are supplied)
*Hospital gowns do not have any pockets; therefore, we recommend a small bag or pouch.
*Please do not bring anything dangerous.
*Please consult your doctor or nurse prior to bringing any electrical appliances.
2. Medicine / Medicine notebook
Please bring your medication history booklet and any medication that you are presently taking. Please understand that we may contact your local hospital, clinic, or health insurance pharmacy to clarify your medication.
3. About valuables
Please do not bring large amounts of cash or valuables in order to prevent theft.